Help Improve This Site
Do you have a correction, suggestion, comment, addition, subtraction?
This page last updated 12/12/14.
You Are Here: Home
Welcome to ORIC
Warning: This website contains nearly 100 Google maps. Google recently "upgraded" its mapping software in a way that wrecked the formatting of textual information in our maps. We are working to fix this. But, since we have more than 3,000 items on these maps, it will take a while. Your patience with the ugly appearance of this text is appreciated.
December 13. Fitness Monitor Basics. REI Grand Junction. 11:00 a.m. - 1:00 p.m. How far is your favorite trail run? How fast is your pace? How many calories did you burn on your last hike? Join our technical experts to learn more about Fitness Technology components, use and functionality in your exercise and fitness routine. More, registration required.
December 13. Annual Holiday Open House at Cheyenne Mountain State Park. Colorado Springs. 10:00 a.m. - 2:00 p.m. Bring your family and friends for an afternoon of fun that will include crafts, snacks, stories by the fire and a visit from Santa. There will also be a sale on park merchandise so you can check off the nature lover on your shopping list. Open house is at Visitors Center and is free. Normal admission required for rest of park. More.
December 13, 14. Winter Raptors. Rocky Mountain Arsenal National Wildlife Refuge northeast of Denver. 1:00 - 3:30 p.m. Learn in a short program which birds of prey are soaring through the refuge's winter sky and how to easily identify them. Then venture out with a aturalist to put your ID skills to the test. More.
December 13, 16. Snowshoeing Basics. REI Fort Collins (Dec. 13, 10:30 a.m. - noon), REI Boulder (Dec. 16, 6:30 - 8:00 a.m.). Our experienced staff will focus on the appropriate selection of gear as well as the basics on what you need and where to go to get started.. Fort Collins: more, registration required. Boulder: more, registration required.
December 20, 21. Holiday Wildlife Tours. Rocky Mountain Arsenal National Wildlife Refuge northeast of Denver. 9:30 a.m. - noon. Spread the holiday cheer with family and friends on a special two-hour guided wildlife viewing tour while keeping warm in our bus. After the tour make a "frosty" fun-filled holiday craft to take home. More.
More Events & Classes: See our "Events & Training" page.
ORIC NEEDS VOLUNTEERS. See our "Volunteering" page.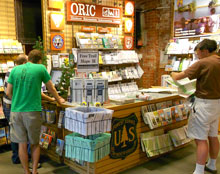 How to Use This Site
The rest of the sections in the menu in the left column ought to be self-explanatory.
Here is a window into what's on our Facebook page:
ORIC wants to be your most important resource for help planning your next outdoor adventure. We provide thorough information for Colorado as well as some information for surrounding states. And we do it two ways: through this website and in person at an information desk in the map department of the REI store in downtown Denver.
We are a not-for-profit partnership of eight federal, state and private organizations. Our staff is one full-time manager, supplied by the US Forest Service, and a crew of volunteers. For more information, see our printable brochure.
Visit us at REI: 1416 Platte St. Store location map.
Recent Updates to This Site