Organizations That Need Volunteers
The ORIC Crew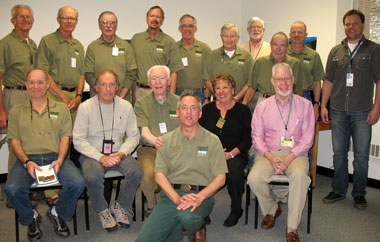 Kneeling: Bryan Fons, ORIC full-time manager (US Forest Service).
Seated (from left): volunteers Chuck Shom (VISIT DENVER), Steve Reiter (US Geological Survey), Bernie Goldman (CO Fourteeners Initiative), Carol Drury (Retired and Senior Volunteer Program), Milton Rouse.
Standing (from left): volunteers Richard Quick (Denver Bicycle Touring Club), David Hite (CO Mountain Club), Larry White (CO Mountain Club), David Vogel, Rick Eisle (CO Trail Foundation), Rolly Rodgers (CO Trail Foundation), Geoff Brown (ORIC webmaster), Clyde Jones (CO Division of Wildlife), Scott Grotheer (US Geological Survey), Scott Layman (US Geological Survey).
Volunteering with ORIC
ORIC needs volunteers to help staff our information desk in the REI store in downtown Denver. We want people who love the Colorado outdoors, know a good bit about it, are willing to learn a lot more, and enjoy talking about it to the public.
A typical shift for a volunteer is four hours once a week. But you can work more or less than that. The desk needs to be staffed during normal store hours which are Monday-Friday 9-9, Saturday 9-9, Sunday 9-7.
**There is an immediate need for help on Fridays 6-9, Saturdays 9-11 & 3-9, Mondays 6-9, Tuesdays 6-9, Wednesdays 4-9, Thursdays 2-9.**
Perks include a discount at REI and a free pass to Colorado's State Parks.
If you are interested or want to ask questions, email Bryan Fons, ORIC manager, at bfons@fs.fed.us. Or call him at 303-433-0845.
Downloads:
Volunteering form (DOC). You can fill out and email this electronic form provided you have Microsoft Word or some other Word-compatible software.